Situated at an altitude of 10,000 feet above sea level within the region of South Sikkim, Tarey Bhir presents a captivating and picturesque landscape. This awe-inspiring precipice commands a stunning vista that gazes upon the lower reaches of Darjeeling and Kalimpong. Cradled within the confines of a quaint hamlet named Sadam, Tarey Bhir View Point is a destination that should undoubtedly find its place on your travel itinerary if a journey to South Sikkim is in your plans.
The term "Bhir," hailing from the Nepalese language, translates to "cliff." Thanks to its lofty altitude, this scenic cliff delivers an entrancing tableau encompassing river valleys, the verdant embrace of the encircling forests, undulating hills, and an expansive panoramic tableau of the convergence of the Teesta and Rangeet Rivers. Furthermore, the sprawling Peshok gardens that adorn a gently sloping hill can also be admired from the vantage point of Tarey Bhir.
What to See and Do in Tarey Bhir
Embarking from Namchi, the voyage to Tarey Bhir unfurls as an exhilarating odyssey. To undertake this venture, secure a rented vehicle that charts a course towards Sadam from Namchi. Along the journey, the road diverges into a fork, and your chauffeur must elect the path veering rightward. The approximate span spanning from Namchi's embrace to the allure of Tarey Bhir measures around 16 kilometers.
Traversing a paved trail that descends gently, you find yourself upon a splendid pathway perched atop the mountain's crest. To one side, a dense forest of pine trees sprawls like an emerald tapestry, while on the other, a verdant expanse of grass and moss extends in a welcoming gesture.
This walkway evokes resemblances to the majestic Great Wall of China. The trajectory of this path guides you to the brink of a precipice, unveiling a panorama that's a coveted reward: the alluring Himalayan range, the undulating hills that cradle Darjeeling and Kalimpong, and the harmonious union of the Teesta and Rangeet Rivers.
What Is the Best Time to Visit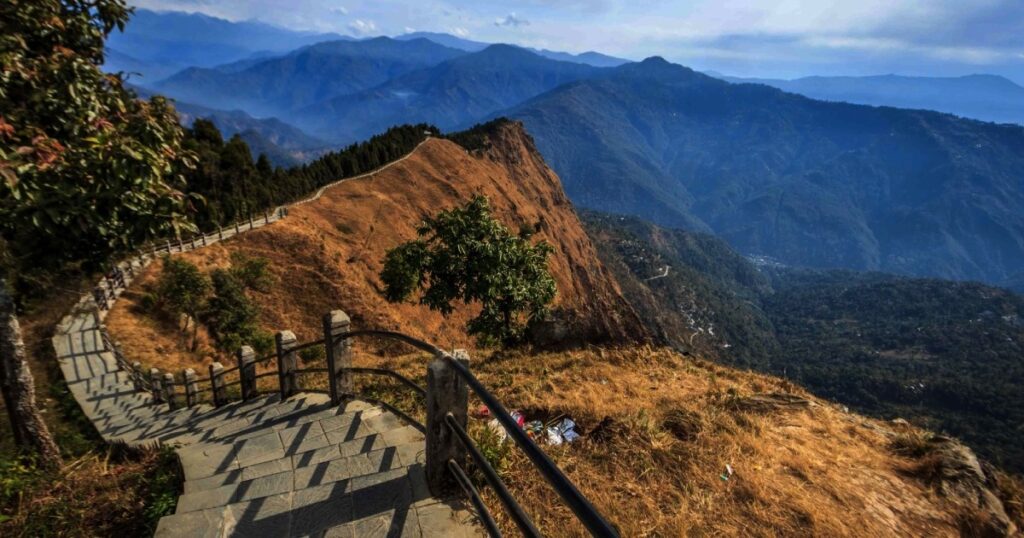 Exploring both Sikkim and the enchanting Tarey Bhir is a possibility spanning from March to May, as well as from September to November. Within these timeframes, the weather extends a delightful invitation, gracing your days with clarity and sunshine.
Conversely, the span encompassing December to February bestows chilly conditions, dissuading many travelers from making their way there. The months between May and August usher in the monsoon season, during which heavy rainfall envelops the region, rendering the path to Tarey Bhir potentially treacherous due to slipperiness.
How to Reach There?
The central township of Namchi lies a mere 17 kilometers distant, while Ravangla extends approximately 23 kilometers from this locale. Tarey Bhir serves as an enticing sightseeing destination accessible from both Namchi and Ravangla.
For those venturing from Darjeeling, Tarey Bhir in Sadam beckons as well, reachable within a span of roughly two and a half hours covering a distance of approximately 56 kilometers.