You can't miss visiting Madhuvan Park, or commonly spelt as Madhuban Park, located on the outskirts of Siliguri. This mesmerizing park is nestled amidst the lush green forest of Sukna, which creates a serene atmosphere that has bewitched plenty of travellers towards it.
It's just 8 km away from the main town of Siliguri, making it an easy and must-visit destination. Let me describe why.
Madhuban Park Siliguri Attractions and Activities
Are you wondering what you can do in Madhuban Park Siliguri? If yes, then you'll be glad to know that there are plenty of things to see and do in the park. These include:
You can spend some quality time with your family and friends.
Stroll through the manicured lawns and pathways.
Enjoy the serene ambience and tranquillity of the park.
Watch kids playing in the garden of the park.
Enjoy watching monkeys doing funny activities.
Have a trek towards Sukna Forest.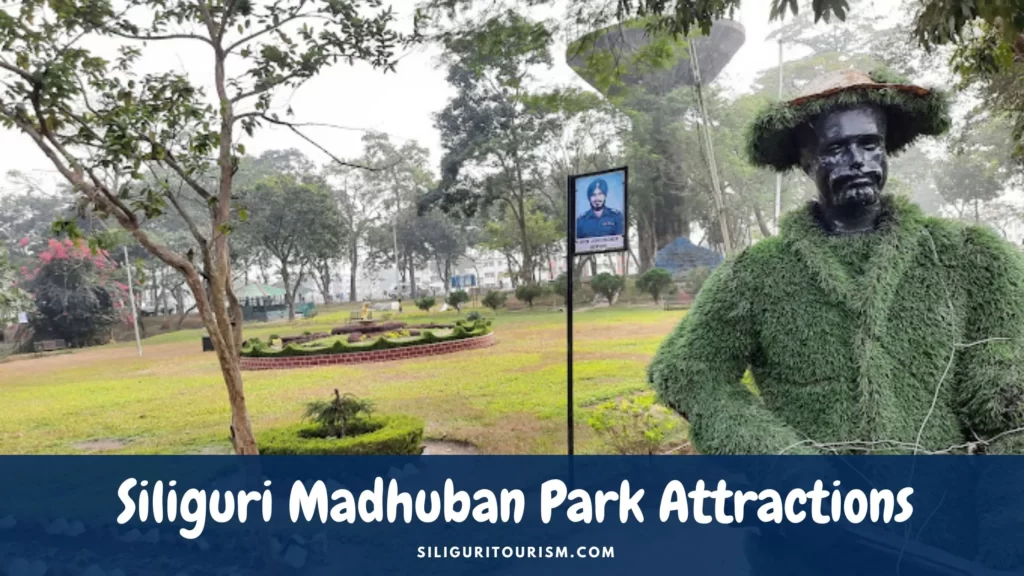 Siliguri Madhuban Park Timings & Entry Fee 
You'll be happy to know that this tranquil park opens at 6 am and closes at 7 pm every day of the week. If you're wondering about the entry fee or ticket prices, it costs Rs. 15 for adults.
In case you bring a vehicle, motorcycle parking is Rs. 5 while car parking will cost you Rs. 10.
How to Reach Madhuban Park
You can easily reach Madhuban Park in Sukna from Siliguri by hiring a car as the distance between them is just 8 km. If you're coming from other cities, the nearest railway station is NJP which is 19 km away. After reaching NJP, you'll find many autos and cars waiting outside. Simply hire one of them and reach this amazing spot!
Furthermore, Bagdogra Airport is the closest airport at a distance of 18 km. Once you land at Bagdogra, you can choose the above-mentioned method to reach there.
Conclusion 
You should definitely visit Siliguri Madhuban Park if you're seeking peace amidst nature. You can get lost in the quiet ambiance of the park while beholding the beauty of the Sukna Forest.
However, it's not advisable to get completely lost as the clever monkeys may snatch something precious from you and spoil your day!