When you heed the call within yourself and step away from the mundane rituals, an immediate sense of tranquility engulfs you, sweeping away stress as if it were a mere illusion.
Over time, weary individuals from bustling cities have contemplated their deep yearning for peace and embarked on journeys to serene hill stations like Darjeeling and others of its kind.
As your closest acquaintance to the majestic Himalayas, the Darjeeling Hills have enticed countless souls seeking respite from the chaotic urban life.
Nestled amidst breathtaking views of the Himalayas, lush tea estates, and historic properties, numerous undiscovered destinations await your exploration. Among these hidden treasures lies the enchanting allure of Indreni Falls.
The name "Indreni" holds a special meaning in the Nepali dialect—it translates to "Rainbow." This name perfectly captures the essence of Indreni Falls, as on sunny days, the cascading water and sunlight unite to form a splendid rainbow within the waterfall.
Hence, it earned the alternate names of Rainbow Waterfall or Indreni Chango. This natural wonder in North Bengal stands as a phenomenal attraction, captivating visitors with its sheer beauty.
Indreni Falls Sonada Location
Indreni Falls can be found approximately 5-6 km from Sonada town. This serene waterfall is nestled amidst untouched nature, far from the hustle and bustle of urban life.
A visit to Indreni Falls on a sunny day presents you with a mesmerizing spectacle—a rainbow gracefully adorning the waterfall. Moreover, this location provides a tranquil ambiance, allowing you to immerse yourself in lush greenery and enjoy the peaceful atmosphere under the clear blue sky.
Despite its exquisite beauty, Indreni Falls remains a hidden gem within the Darjeeling Hills. Only a select few have had the privilege of exploring its rarely traversed terrain. Its unparalleled charm sets it apart from any other attraction, making it a truly unique and worthwhile destination.
The seclusion of Indreni Falls from the bustling city adds to its allure, making it a dream come true for those yearning to escape the monotony of urban life. A visit to Darjeeling would be incomplete without experiencing the enchantment of Indreni Falls in Sonada.
How to reach Indreni Falls in Sonada
Sonada is well-connected by road, making it easily accessible from various cities and nearby hill stations such as Kalimpong, Kurseong, and Gangtok. Siliguri serves as the main city and transit base for these hill stations.
If you are traveling to Sonada from other states by road, shared vehicles are available from Siliguri Junction to the Sonada region. Regardless of the distance, a trip to Indreni Falls is undoubtedly worth your time and effort.
If traveling by air, the nearest airport is Bagdogra International Airport (IXB) in North Bengal. Upon arrival, rental cars are available to transport you to Sonada.
For those opting to travel by train, the nearest railway station is NJP, which connects North Bengal with other states. From NJP, you can rent cars or taxis to reach Sonada.
Best time to visit Indreni Falls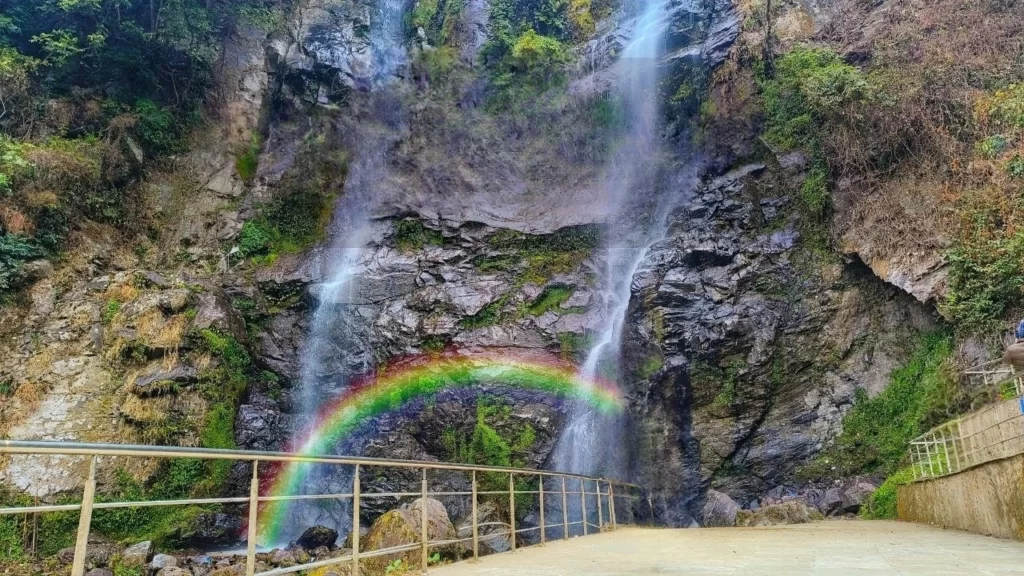 Indreni Falls unveils its unique allure in every season, casting its enchanting spell on all who visit. Nature's purest form is on display at this remarkable spot, with the phenomenal rainbow, breathtaking green valleys, and flowing streams captivating the senses.
The serenity and bliss found here are unparalleled. No matter the season, a visit to Indreni Falls guarantees a fulfilling experience that will leave you in awe.
During the monsoon season, the waterfall takes on a grand and formidable appearance. The roaring sound of the colossal falls is accompanied by an abundance of greenery in the surroundings.
The monsoon rain not only increases the volume of water but also rejuvenates the lush greenery after the dry winters.
However, it is not just the season that enhances the beauty of Indreni Falls; it is the interplay of sunlight that works its true magic.
The rainbow within the waterfall becomes visible when sunlight illuminates the tiny water droplets. Therefore, to witness the rainbow up close, it is advisable to plan your visit to Indreni Falls in Sonada on a sunny day.
If you yearn to immerse yourself in unexplored destinations, the serene regions of Darjeeling await your arrival. The charming Sonada region holds the hidden paradise known as the "Hill Queen's pride."
Indreni Falls, the most captivating waterfall in the Darjeeling District, is a testament to the region's phenomenal beauty.
Nature enthusiasts, adventurers, and those seeking peace are drawn to the majestic allure of Indreni Falls, making it a must-visit destination in Sonada.